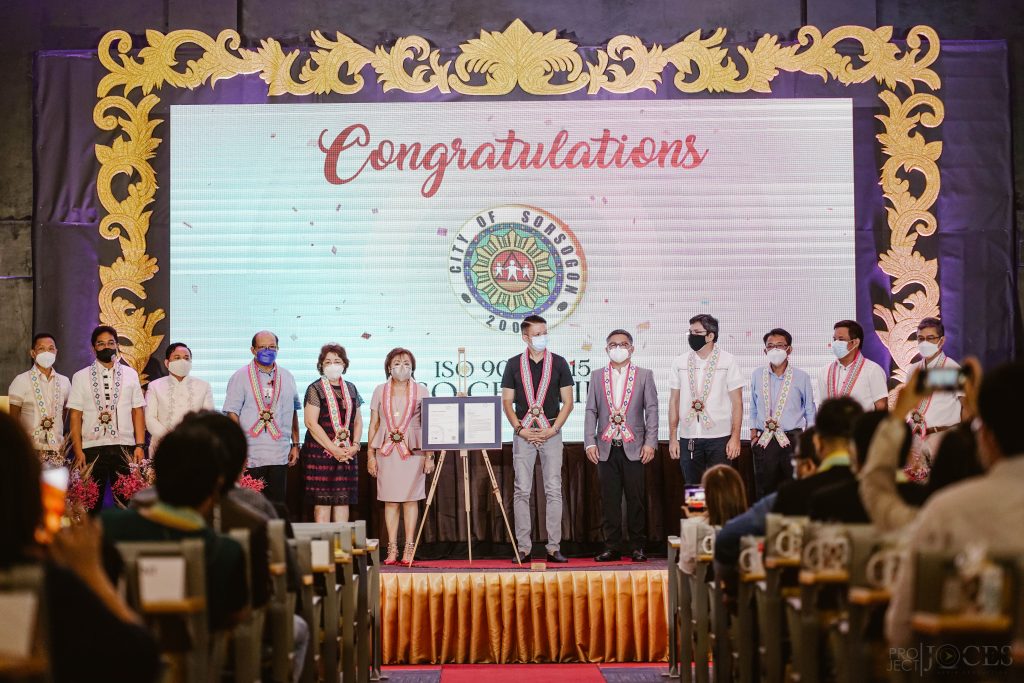 The City Government of Sorsogon formally received its ISO 9001:2015 Certification for its Quality Management System on July 29, 2021 at the Sorsogon State University Audio-Visual Hall. With its operations conforming to the requirements of international standards, Sorsogon City holds the distinction as the first City LGU in the Bicol Region to be certified to ISO 9001. The momentous occasion was graced by public figures who took part in the City's ISO journey. Among these were Governor Francis Joseph Escudero, Congresswoman Evelina G. Escudero, Vice Governor Manuel L. Fortes Jr. DILG Assistant Regional Director Atty. Arnaldo Escober, DBM Assistant Regional Director Antonio F. Villanueva Jr. and mayors from the various municipalities of Sorsogon. Secretary Martin Andanar of the Presidential Communications and Operations Office who gave a recorded inspirational message.
The ISO Certification is a testament of the LGU's commitment to excellent public service. Mayor Ma. Ester E. Hamor said that she has always dreamed of a new day for Sorsogon City. "With this, we are one step closer to our goal," she added. "This is just the beginning. A lot more remains to be done. We have to remember that this certification is not an award: it is a challenge for us to do better. At the start of the process, we signed a pledge of commitment. We will continue to honor that commitment as we strive to transform the City of Sorsogon," Mayor Hamor continued.
The bid for ISO Certification was spearheaded by Governor Escudero and was one of the very first orders released upon his assumption to office. Mayor Hamor then thanked the Governor for the inspiration. "We are grateful to the Provincial Government for inspiring us further" she said. "It was Governor Chiz who sowed the
seeds: he involved us in the process from the very start. "
It has been almost two years since the City Government of Sorsogon started this beautiful journey as a unified organization bound by a common goal: securing the ISO 9001:2015 Certification. The awarding ceremony is an affirmation that it has collectively succeeded in beating the odds. The ISO journey may not have been easy but the motivation to move forward has been always present. The inspiration to prioritize its constituents hence the phrase "Sorsogon First" cemented LGU Sorsogon City' determination to deliver quality government services that is responsive to the needs of its constituents. As an ISO-certified institution, LGU Sorsogon City will surely be more improved and with a stronger sense of public service anchored on the pillars of good governance and client's satisfaction.