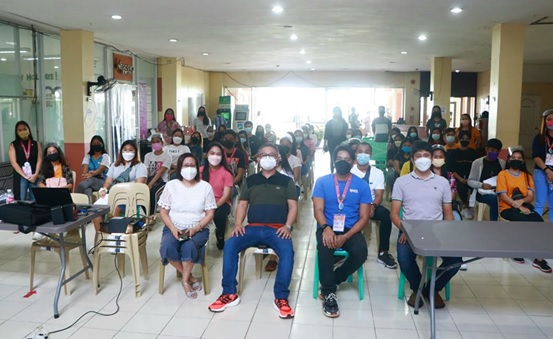 Sorsogon City Government has taken anew a total of TWO HUNDRED FIFTY (250) academic  scholars under the Sulay sa Futuro Program of the 10PlusOneAgenda of the Hon. Ma. Ester Hamor.  The LGU has now over a thousand scholars from Academic, Alternative Learning and Project Ester college scholarship and grants.
In a series of activities handled by Barangay Affairs and Public Assistance Section (BAPAS), the College Scholarship Office in-charge, dutifully screened the applicants through written exam and subsequent Background investigation and Collateral information.
Commencing their official entry to the roster of City Scholars, the qualifiers were gathered in batches to comply with the health protocols for the orientation of their benefits, privileges, roles and responsibilities.  The said activity was conducted last November 5 & 6, 2021 at the City Hall lobby and was attended by City Administrator Atty. Mark Gerald Guirindola as the Local Chief Executive's representative.  Atty. Mark stressed the importance of the program the city has gifted them and reminded the beneficiaries that their success is a formula of 10% from the assistance and the environment but the gravity of sincerity to succeed still remains with the scholar itself.  Also present during the orientation were the Sulay sa Futuro Program Manager Mr. Gerald Maligaso, Dr. Jhonner Ricafort of the Sorsogon State University and Ms. Beth Alindogan.
Though faced with the limitation of a physical and personal interaction among the scholars and of the offices  handling the program, Sulay sa Futuro Program still continue to roll out projects and activities for these young people.  Among the projects implemented were zoom meeting with the Scholars Organization to plan out programs that would  strengthen ties with all the scholars; outreached program such as the TOY PANTRY of the scholars in collaboration with the PNP wherein the scholars contributed  toys, personal hygiene kit and snacks and distributed the same to three barangays identified as safe amid this pandemic.
Before the year ends, the scholars and few number of parents are bound to undergo stress de-briefing to allow reset of mindset which were truthfully affected by the year-long pandemic.  MIND GAME ESTER(Ensuring Sanity, Teaching Emphatic Response): the art of coping up with mental stress, is set to be conducted mid December as the City Government's contribution to psychological first aid.
charodichosologronio
BAPAS